Køb bøger
af Vivian Birlie
Bøger om zoneterapi og akupressur 
Jeg har skrevet 5 bøger om zoneterapi og akupressur- to af dem er udgivet på Gyldendal.
Min nyeste udkom januar 2020.
Er du til hunde og katte, vil nogle af mine bøger lige være noget for dig.
Skab balance i krop og sind
Gyldendal, 2020.
Bogen beskriver, hvordan du med blide punkter fra akupressur og zoneterapi kan hjælpe dig selv og dine nærmeste af med de mest almindelige gener, lidelser og ubehag. Du får:
Forslag til behandling med punkter fx for søvnproblemer, stress, angst, køresyge, impotens, nakkespændinger, hovedpine, musearm, rygsmerter, snorken og meget andet
Et børnekapitel skrevet sammen med Katrine Birk med punkter til babyer og børn, der har problemer med søvn, ører, mave og immunsystem
Et ansigtsmassageprogram viser dig, hvordan du kan stramme huden op i ansigtet og samtidig give kroppen et energiskud til glæde for dine organer og dit helbred. Følg programmet og se 10 år yngre ud!
Et holistisk punksystem, der hjælper dig med at bevare dit velvære og gode helbred ved at stimulere nervesystem, immunsystem, fordøjelse, kredsløb og energiflow
Kærestestunden som er et program til dig og din partner, hvor I kan forkæle hinanden og samtidig styrke hinandens
Bogen er rigt illustreret med angivelse af punkternes beliggenhed, og en let tilgængelig og overskuelig tekst understøtter billederne.
Læs mere
Vejl. udsalgspris: kr. 249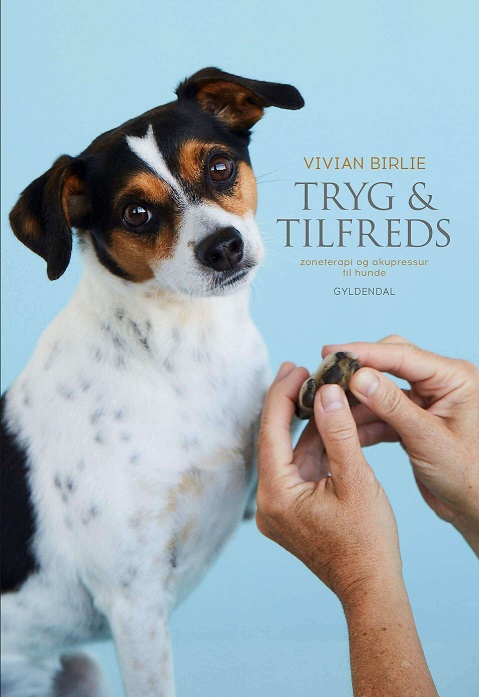 Bog om zoneterapi til hunde
Tryg og tilfreds, Gyldendal 2018, beskriver, hvordan man med blide tryk i punkter fra zoneterapi og akupressur selv kan hjælpe sin hund, når den har smerter, ubehag og problemer – inklusive adfærdsproblemer. Bogen er rigt illustreret med angivelse af punkternes beliggenhed og en let tilgængelig og overskuelig tekst understøtter billederne. Der nævnes fx punkter for allergi, rygproblemer, frygt og aggression. Bogen indeholder også et velvære-program for de hundeejere, der har raske hunde.
Bogen er en succes – den er allerede efter 8 mdr blevet trykt i andet oplag.
Vejl. udsalgspris: kr. 199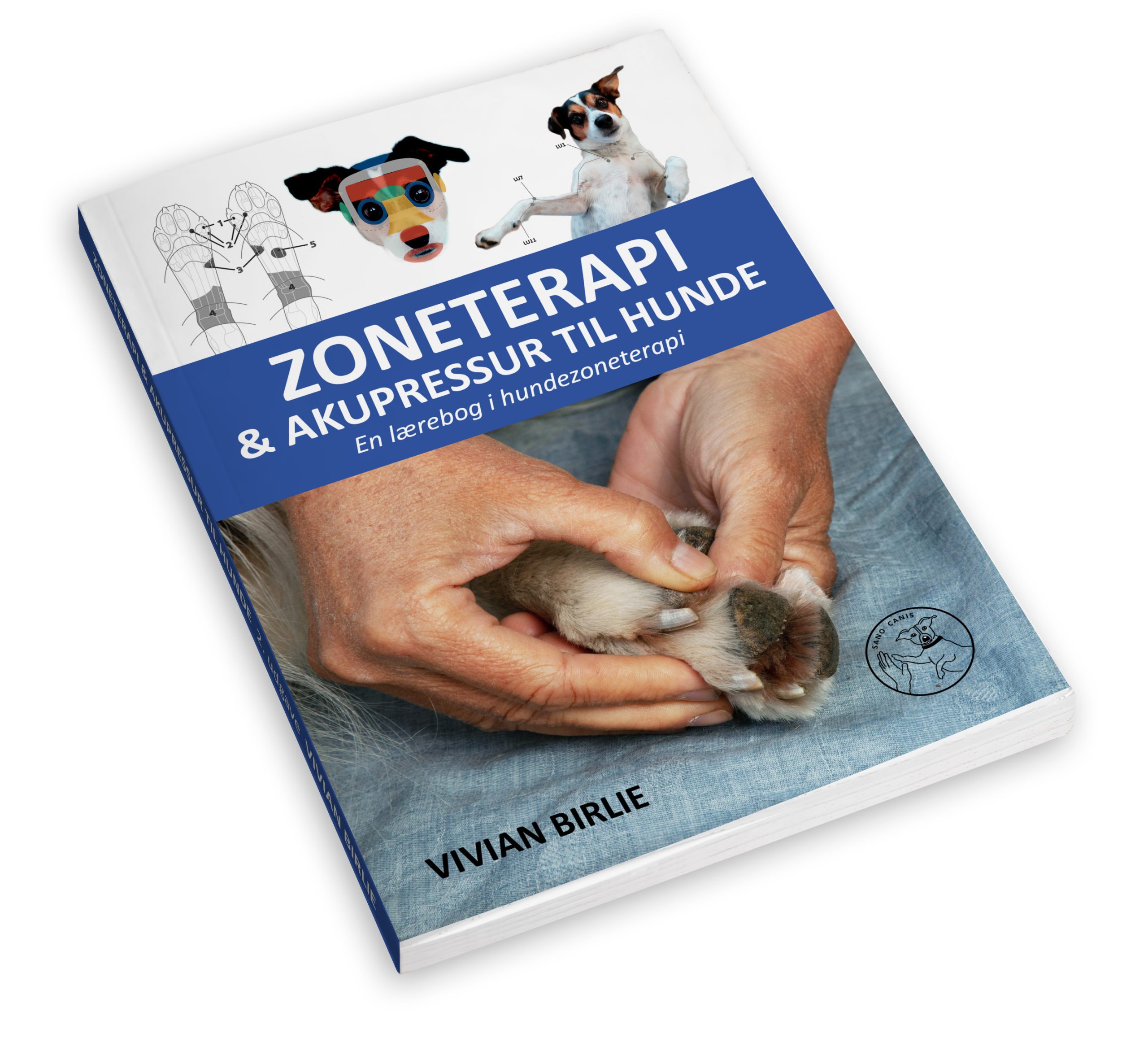 Verdens første lærebog om zoneterapi til hunde
Nu i 2. udgave med endnu flottere grafik og ekstra sider.
Bogen danner grundlag for uddannelsen til hunde zoneterapeut på Sano Canis, institut for Zoneterapi til hunde – uddannelsesinstitution og behandlinger.
Det har længe været muligt at finde bøger om zoneterapi til mennesker. Med denne bog er det nu også blevet muligt at få viden om zoneterapi til hunde.
Bogen beskriver detaljeret og overskueligt i både tekst og figurer, hvor hundens reflekszoner ligger på poterne. Den teknik, der anvendes på poterne er nøje beskrevet og anskueliggjort med figurer.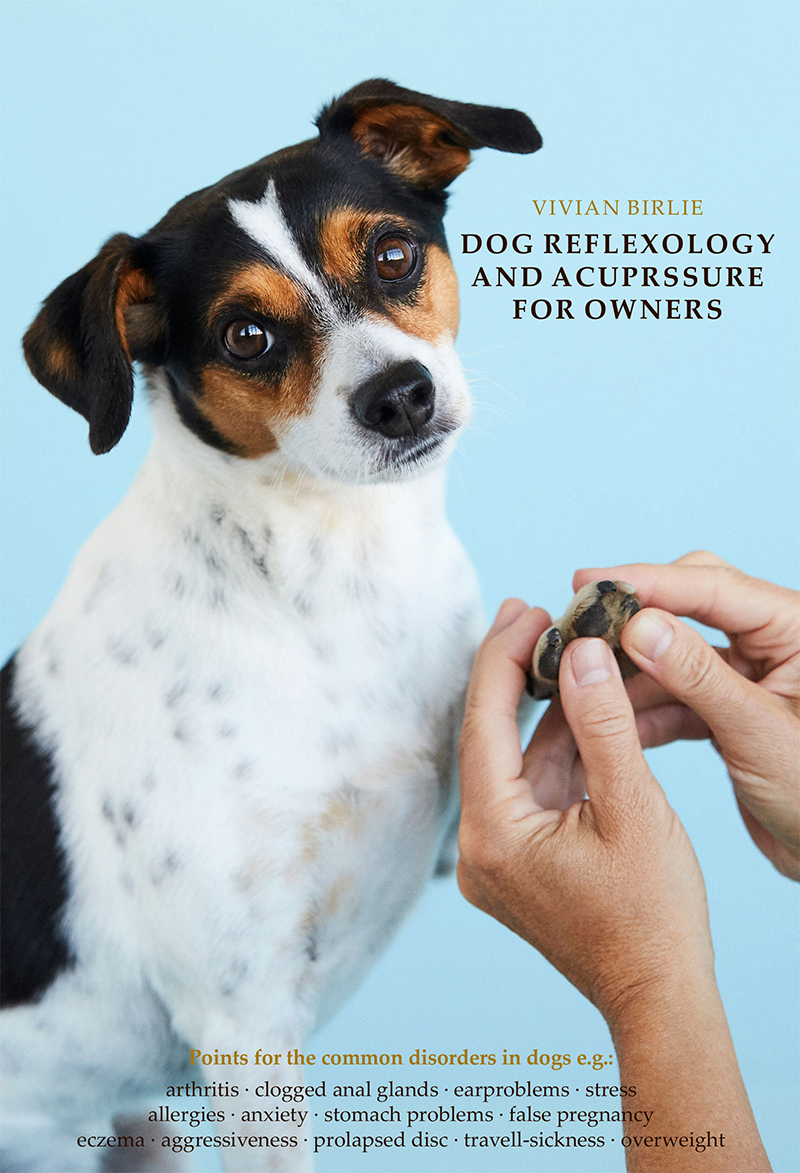 Dog reflexology and acupressure for owners
The book describes how you can help your dog when it is in pain, discomfort or has problems, including behavioral problems, by applying gentle pressure on reflexology and acupressure points. The book is richly illustrated with an indication of the location of the points and an easily accessible and clear text supports the images. For example, there are points for allergies, back problems, clogged anal glands, fear and aggression. The book also contains a wellness program for owners who have healthy dogs. A point system shows you how to maintain the dog's well-being and good health by stimulating its nervous system, immune system, digestion, circulation and energy flow.
The author says: I have had so many wonderful responses from dog owners, who have used, what they have learned from reading my book, on their dog with great success. One owner, for example, treated the anal gland point, which was so helpful that the dog no longer needs to go to the vet to get its anal glands emptied.
Vivian Birlie is a reflexologist, acupuncturist and author.  She teaches at her Sano Canis Institute, which offers a one-year veterinarian certified dog reflexologist education. It takes place in Denmark and England. (Read more abot dog reflexology).  Vivian also gives lectures and teaches courses in human acupuncture and reflexology. On her facebook page, you can get good advice on how to relieve the most common disorders in dogs and cats.
Facebook: dog reflexology and acupressure – Sano Canis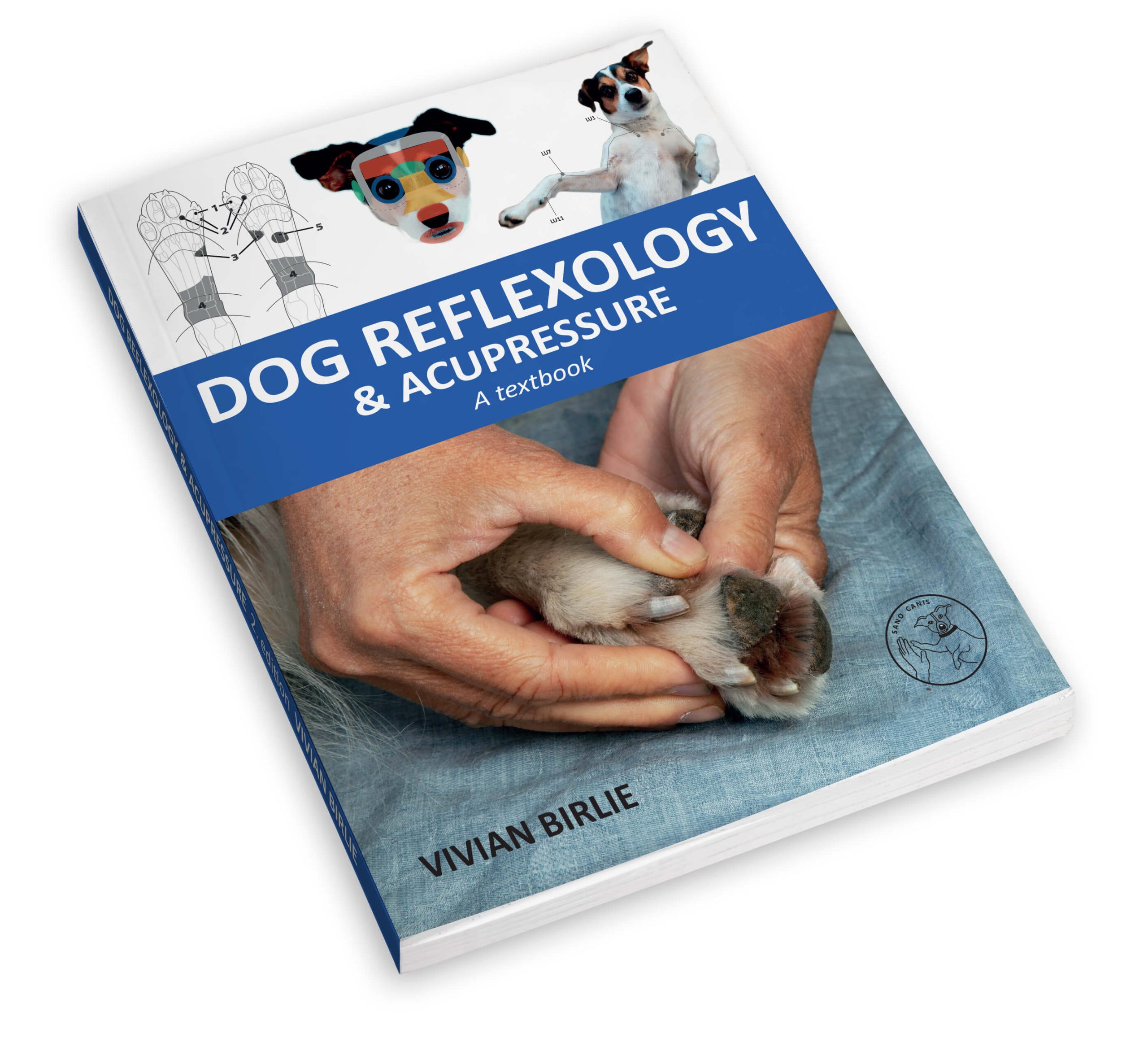 Dog reflexology and acupressure – a textbook
Now in 2. edition with even more nice graphics and extra material!
Books about reflexology for humans have been known for many years. Now this book makes it possible to gain knowledge about reflexology for dogs as well. The book describes the technique and where the dog's reflex areas are located on the paws. All content is carefully described and complemented with illustrated figures. The dog's urinary passages, nervous system, digestion, senses, respiratory passages, immune system, circulation, detox system, endocrine system, bones and muscles are some of the content you will find described in the book.
Facebook: dog reflexology and acupressure – Sano Canis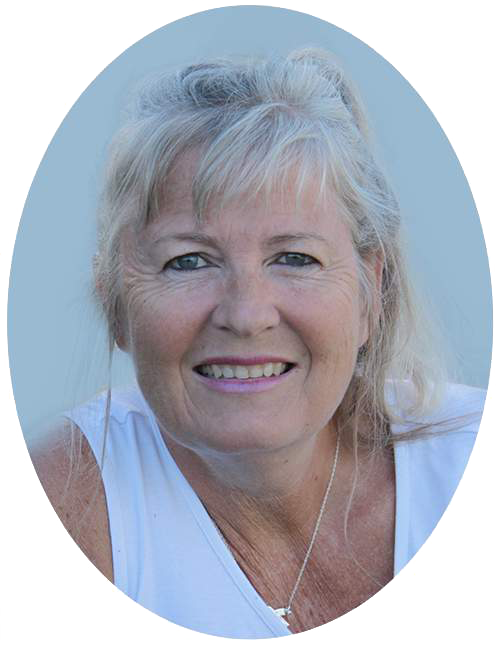 Klinik på Lystrupvej 32, 3550 Slangerup. Kører også ud mod tillæg.
Vivian Birlie
Vivian Birlie har praktiseret og undervist i zoneterapi og akupunktur i 20 år og udbyder en professionel zoneterapiuddannelse og diverse kurser bl.a. selvhjælpskurser. Hun har udgivet 5 bøger om zoneterapi og akupunktur – 2 af dem på Gyldendal. Læs mere om bøgerne her.
Vivian holder foredrag rundt omkring i landet, hvor hendes nye bog "Skab balance i krop og sind, Gyldendal 2020, indgår som en naturlig del.
Hun er RAB-registreret i zoneterapi og akupunktur, hvilket betyder, at Sygeforsikringen "danmark" giver tilskud til hendes behandlinger, der også er dækket af langt de fleste sundhedsforsikringer.
Læs mere om Vivian her.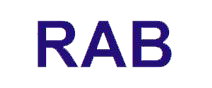 Registreret alternativ behandler - i akupunktur og zoneterapi
Din garanti for en veluddannet behandler
Forsikringsselskabernes sundhedsordninger kræver RAB-behandlere for at dække behandlinger